Chicago Area - 2017 Nissan Sentra SL
Chicago Area - 2017 Nissan Sentra SL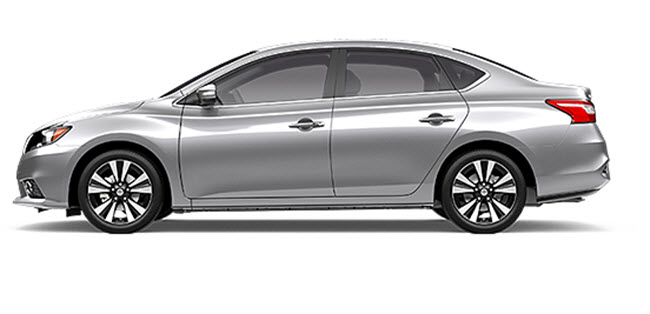 Chicago Area - 2017 Nissan Sentra SL
The Nissan Sentra is one of the hidden gems of the manufacturer's lineup of vehicles. If features many of the same great technologies and amenities that make its larger cousins - the Altima and the Maxima - so popular while still offering them at a very competitive price point. The 2017 Nissan Sentra SL in particular is a great buy, being loaded out with plenty of exciting extras and creature comforts and made especially affordable by our great Nissan Sentra specials to Chicago area buyers. So if you are looking for a compact sedan that offers a stylish exterior, a comfortable interior, good handling, plenty of power and modern advanced safety, then the Sentra SL is your choice. We have plenty of information about the new Sentra here and if you have any more questions or are looking for a competitive quote on a 2017 Nissan Sentra SL near Chicago IL, contact Woodfield Nissan and find out just what has made us one of the most popular Nissan dealers serving the Chicago area.
Interior
Sit inside the new Sentra SL and you could easily confuse it for a mid-size or even a luxury sedan thanks to its spaciousness, quality and impressive features. A big draw to getting a 2017 Nissan Sentra SL near Chicago IL are the heated leather seats that are standard on the SL and make for a comfortable ride even in the coldest winter. The fit and finish on the model is very high quality, with soft touch plastics, leather and metallic accents blending together to create a very upscale cabin. It is also one of the larger ones in its class with plenty of headroom, legroom and shoulder room for both the front seat and back seat passengers, topped off with an impressively large trunk for all of your storage needs.
Exterior
The Sentra has had a redesign last year - for the 2016 model - and the 2017 edition continues using the same striking styling to deliver a head-turning and modern exterior. The V-shaped aggressive grille of black plastic and silver metal is a badge that links the Sentra to the other cars in the Nissan line while the aggressive fenders and the patterned hood add an upscale and refined touch that is usually absent in the compact sedan class. If you are looking for a car that stands out of the crowd and looks good doing it, drive your 2017 Nissan Sentra SL near Chicago IL and enjoy the envious looks. With the great Nissan Sentra specials to Chicago we have going on right now, what time could be better?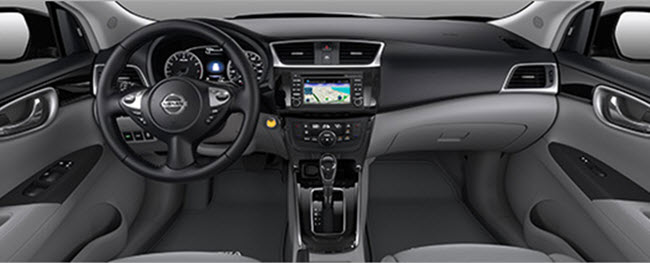 Mechanical
Unconventionally in the compact sedan segment, the Sentra SL combines both a smooth ride and aggressive handling in one package, pleasing both driving fans and everyday commuters. It is equipped with a reliable electric power steering system that delivers confident and precise feedback both during parking maneuvers and high speed driving. Likewise, the suspension is geared up to absorb much of the road roughness you may encounter while still keeping the car upright during quick turns. This makes the Sentra SL a great option for those who want a practical vehicle that can still deliver thrills and excitement when called for. If that sounds too good to be true, try it out yourself! Contact Woodfield Nissan - our location serving the Chicago area - and arrange for a test-drive. The performance is certain to impress.
Powertrain
The Sentra SL is powered by the same powertrain as most of the other Sentra models - a four-cylinder engine combined with a continuously variable transmission that together deliver responsive and spirited acceleration without compromising the car's emissions and fuel efficiency. The 1.8-liter engine generates 130 horsepower to quickly propel the Sentra's small and nimble frame up to speed. The continuously variable transmission contributes by constantly keeping the engine at the peak of its power curve with its infinite combination of gear ratios, delivering a combination of power and efficiency that is simply impossible for transmissions with fixed gears to match. The end result is a quick and efficient vehicle that will make any driving enthusiast happy to get behind the wheel.
Safety
Safety is always a top priority for any automaker and the new Sentra certainly does plenty to make its designers proud. With a body that combines high-strength steel and alloy with designated crumple and force absorption zones, it has earned top scores from crash test agencies, including a five-star side impact rating from the National Highway Traffic Safety Administration and the exclusive Top Safety Pick Plus award from the Insurance Institute for Highway Safety. It also features some of the latest active safety technology such as blind spot monitors, rear cross traffic alerts and a rear view camera. Make use of our Nissan Sentra specials to Chicago clients and add the SL Premium Technology Package to your Sentra to get access to the even more innovative Intelligent Cruise Control with Forward Emergency Braking that can not only predict potential accidents but take action to prevent them before you have the opportunity to react. With this technology, the Sentra SL is going to be on any safety-conscious buyer's list. 2017 Nissan Sentra SL is changing what it means to be a compact sedan, offering high-quality materials, the latest technology and unparallelled comfort in a stylish package. We invite you to give the Sentra SL a try and join us on this exciting journey. Contact Woodfield Nissan - the dealer serving the Chicago area - and see what kinds of great deals we can offer you on your new Sentra SL today!