2017 Nissan Titan For Sale Near 60194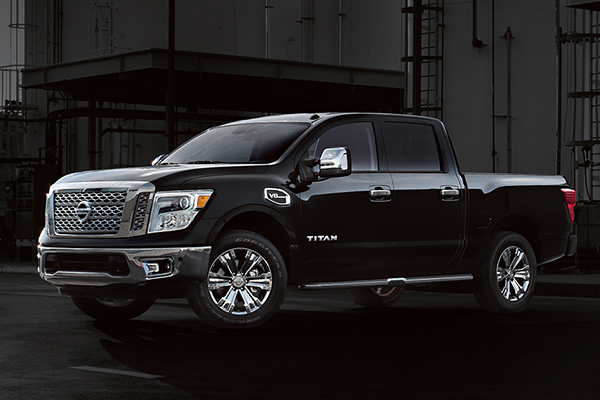 2017 Nissan Titan For Sale Near 60194
A solidly built half-ton pickup with amazing towing power and a full-length bed, the Nissan Titan fits nicely into both the mid-size and heavy-duty truck classes. Buyers have the choice of the rugged XD or the smaller Titan model, both of which come with V8 power and plenty of standard features. For sale at the Woodfield Nissan dealership serving 60194 zip code residents, the Titan is sure to please all who take it for a test drive.
Nissan has re-introduced this model with a whole new list of convenience features and updated safety systems. It's a worthy rival to competitors from Ford and Chevrolet, and it can be purchased with several add-on packages that make for a truly customized vehicle. Whatever needs to be hauled in the truck bed or towed behind, the Titan and Titan XD can handle the chore.
60194 Area 2017 Nissan Titan Specials
Buyers looking for a great deal on a 2017 Nissan Titan for sale near 60194 zip code need only contact Woodfield Nissan by phone or check out the dealer's online sales pages. Price specials for the various trims are ongoing, with great savings including low down payments, affordable loan terms, and dealer incentives for qualified buyers. Because the inventory needs to be cleared before too long, the folks at Woodfield Nissan have slashed prices and added on cash back incentives that can drastically reduce the required down payment amount.
Each Titan vehicle included in the price discount program is clearly marked on the incentives pages at Woodfield Nissan's website. Prospective buyers can also call the dealership to ask about current inventory clearance sales. Depending on the sales volume during a particular week, unadvertised specials may go unlisted for the following weekend, so it's important to check with the sales managers to find out about current offers on both the Titan and Titan XD models. The sales and finance staff at the dealership will work closely with each buyer to ensure the best possible deal on a 2017 Titan.
Why 60194 Drivers Buy The 2017 Nissan Titan
The Titan is a rugged, well-built work machine that is available in several different trims. Both the smaller Titan and the heavy-duty Titan XD come with V8 engine power and plenty of towing capability. Whether used as a commercial truck or as a family cargo carrier, the Titan offers long-lasting durability.
Both the Titan and Titan XD have similar crew-cab size and come with basically the same list of standard features. The smaller Titan can also be purchased with a regular cab size and either a 6.5-foot or 8-foot bed. The XD model is 20 feet long and has a spacious crew cab and a 6.5-foot bed. Properly equipped and with the optional diesel engine, the XD can tow up to 12,000 pounds.
The regular Titan is powered by a 5.6L V8 that produces a total of 390 horsepower and 394 lb-ft or torque. Transmission is seven-speed automatic, and rear-wheel drive is standard, with all-wheel drive as an option on all but the Pro-4X trim, on which it comes standard.
The Titan XD comes with the same standard engine, but for those who need to do some really heavy hauling, the Cummins V8 is the way to go. The Titan and Titan XD come with a well-built suspension system that makes for comfortable travel over uneven surfaces.
Inside the cabin of the Nissan Titan models, drivers enjoy power windows, a tilt-and-telescopic steering wheel, a 5-inch color display, and Bluetooth. Optional features on the base trim and standard on the uplevel versions include a carpeted floor, a driver information display, and satellite radio. The exterior features include cab-mounted LED bed lights, a lockable damped tailgate, and an active grille shutter. Wheel size depends on the trim chosen, but the base trim comes standard with 18-inch steel wheels.
Illinois drivers want the best product at an agreeable price. To get the best deals on a 2017 Nissan Titan for sale near 60194 and surrounding zip codes, check out the specials listed on the sales pages of the Woodfield Nissan website, or call the dealer directly to ask about current inventory price reductions.
Nissan Finance Loans For 60194 Drivers
Nissan offers manufacturer's financing at all dealerships nationwide. Qualified buyers can choose low interest rates and several different loan terms. Woodfield Nissan has a full staff of finance experts that help make the buying process a pleasant one. Serving 60194 zip code area truck buyers with pride, Woodfield Nissan will work individually with each buyer in order to design the most affordable payment plan or lease agreement.
Prospective buyers can also go online and check the dealer's pages for finance specials on specified Titan trims. Some of the trucks on the dealer lot have been upgraded with special technology or off-road package add-ons, and these vehicles are often discounted for quick sales. If the buyer chooses to finance the truck through another lender, the loan staff at the dealership will work directly with the lender to specify price as well as any important information regarding included standard and optional feature equipment.
Contact Woodfield Nissan for information on all special pricing and loan terms for all Titan vehicles for sale. The 2017 models are going fast, so now is the best time to save money by getting a great interest rate and agreeable loan term.
60194 shoppers, please call or request current Nissan Titan specials on this website.