2017 Nissan Pathfinder for Sale near 60194
2017 Nissan Pathfinder for Sale near 60194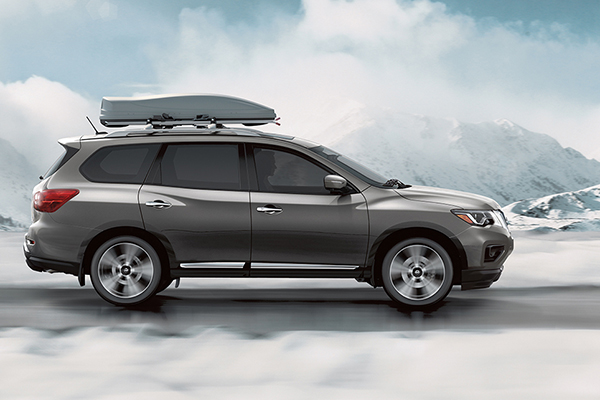 2017 Nissan Pathfinder for Sale near 60194
The 2017 Nissan Pathfinder is a full-size SUV that's available in four models. With three rows of seats and a tri-zone climate control system, this spacious Nissan is ideal for large families. The EZ Flex Seating System highlights the vehicle's versatile interior design that's available in dozens of configurations. Under the hood, the Pathfinder is fitted with a V6 engine that's paired with the signature Xtronic Continuously Variable Transmission for responsive handling. This versatile SUV is also equipped with the 4x4-i Intuitive system that offers superb traction even on rough and slippery surfaces. The 2017 Nissan Pathfinder for Sale near 60194 is also available with many class-leading technology amenities like the infotainment system that's powered by NissanConnect. A sound system by Bose is another premium installation inside the Pathfinder. In the active safety department, the Pathfinder also has sophisticated technology such as the Forward Emergency Braking and Blind Spot Warning. Such accident-avoidance features are powered by the Nissan Safety Shield package.
60194 Area 2017 Nissan Pathfinder Specials
Customers can contact Woodfield Nissan to find out information on special deals on the Pathfinder SUV. Serving 60194 zip code, this dealership offers great discounts for customers who meet certain criteria like educational and military status. For example, the college graduate program lets recent graduates of higher education institutions buy a vehicle at a reduced price. Similarly, the military discount program is exclusively available for individuals who have served in the armed forces. Throughout the year, Woodfield Nissan also comes up with other special offers to attract local customers who seek unbeatable prices on a new vehicle. The Nissan Pathfinder for Sale might be available at low prices on federal holidays like Independence Day, Memorial Day and Labor Day. Car shoppers in the 60194 area are encouraged to take advantage of limited-time offers on such national holidays. A trade-in program can also be used by customers to get special deals on the Pathfinder.
Why 60194 Drivers Buy the 2017 Nissan Pathfinder
The Nissan Pathfinder is equipped with a 3.5 L V6 engine that has a peak output of 284 horsepower at 6,400 RPM and 259 pound-feet of torque at 4,800 RPM. This six-cylinder engine is linked to the Xtronic CVT (Continuously Variable Transmission) that has been exclusively designed and patented by Nissan. As a versatile SUV, the Pathfinder is also optimized to handle off-road adventures and other challenging conditions. The All-Mode 4x4-i Intuitive System delivers good traction on rough surfaces and paved roads. With the turn of a rotary dial, drivers can easily adjust this sophisticated drivetrain. The Lock Mode should be selected to handle extreme conditions such as snow and mud. Besides having a robust and muscular powertrain, the Pathfinder offers some advanced digital technology. The NissanConnect infotainment system comes with GPS navigation software and other great applications. SiriusXM Traffic and SiriusXM Satellite Radio are also included in this vehicle's signature multimedia console. Featuring 13 total speakers, the Bose sound system can play the latest songs from the radio or other audio sources like MP3 players or HD Radio. When it comes to interior comfort, the Pathfinder offers an array of features for the entire family. The EZ Flex Seating System makes it easy for the rear passengers to move in and out of the third and second rows. A climate control system with three zones also keeps all three rows at the optimum temperatures throughout the year. Another premium interior amenity in this Nissan SUV is the tri-zone entertainment system, which includes dual 8-inch monitors that play DVDs. As a family-friendly vehicle, the Pathfinder also offers plenty of advanced safety features that can lower the risk of an accident on or off the road. For example, the Forward Emergency Braking will take automatic control over the vehicle's brakes during critical situations. The Rear Cross Traffic Alert helps the driver notice any obstructions that might be directly behind the vehicle. With some feedback from the Blind Spot Warning, the driver can avoid lateral collisions on the highway. This Nissan SUV also has the Moving Object Detection, which scans the surroundings for any mobile items like carts and wheeled toys.
Nissan Finance Loans for 60194 Drivers
The new Pathfinder that's listed for sale in the 60194 area might be available with several financing options. A Nissan dealership serving 60194 zip code will give auto buyers great deals on loans for this popular SUV model. The down payment for the Pathfinder might be negotiable, so customers will save a lot of money as they sign a contract for an extended loan. A Nissan dealer will offer affordable terms for a loan that's used to fund the purchase of a new Pathfinder. In order to lower the monthly payments for the car loan, customers might have to sign up for at least a five-year term. Financing options for the Pathfinder might also include some coverage of the powertrain and other major components such as the windshields. A Nissan dealership will be glad to explain all of the details of some standards warranties that are valid on the Pathfinder SUV. Customers in 60194 should contact Woodfield Nissan to obtain official manufacturer's brochures on warranty coverage, optional packages and other relevant topics.
60194 shoppers, please call or request current Nissan Pathfinder Specials on this website.
DISCLAIMERS
*Informational content and opinion only. Please contact dealer for complete vehicle details and current pricing.