2017 Nissan Murano for Sale near Huntley Illinois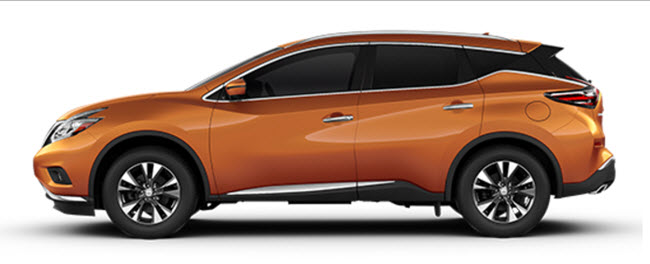 Overview
The Murano has a stunning new look that you'll need to see in person. With the new Midnight Edition, there is more to love about the 2017 Nissan Murano for sale to Huntley IL customers. The 2017 Nissan Murano has all the technology you need to stay ahead of the game, and our Woodfield Nissan specials are designed to help you take home this vehicle today. Make sure you contact our dealership about the Nissan Murano before you go anywhere else. It's one of the best vehicles in its class, and you'll love its efficiency.
Interior
Think of the most comfortable room in your home. Now, step inside the Murano at our dealership and tell us the difference. This vehicle is so comfortable and inviting that you'll half-expect the waiter to show up with a menu. You'll love the open-concept design that makes it easy to have an enjoyable conversation. You'll also get the standard hands-free technology features, and you'll enjoy ambient lighting, premium materials and gain access to the most advanced technology available. This vehicle is designed to take you to the next level. When you come down to see the Murano for sale at our dealership serving Huntley Illinois, you'll be able to check out all of the interior features for yourself. This vehicle is highly versatile and it can adjust to fit your personal level of comfort and convenience. Come see how this vehicle can change the way you live your life.
Exterior
The body of the vehicle is given an exceptional appearance, and you'll be able to enjoy an extreme aerospace design that is intended to help you get the best possible aerodynamics. The V-profile grille gives the vehicle a forward-moving look, and you'll be able to get an outstanding array of features that will help you to enjoy your ride. The exterior of the 2017 Nissan Murano for sale to Huntley IL residents is something that needs to be experienced in person. Pictures and descriptions don't do the 2017 Nissan Murano justice. This is a smart vehicle that has a smart look, and you'll be thrilled with its amazing appearance when you see it in person. When you come by, you'll have to make a note to check out the Signature LED Daytime Running Lights that aim to dramatically improve the appearance of the vehicle. You'll also love the panoramic moonroof and floating roof appearance that gives this vehicle an exceptional design.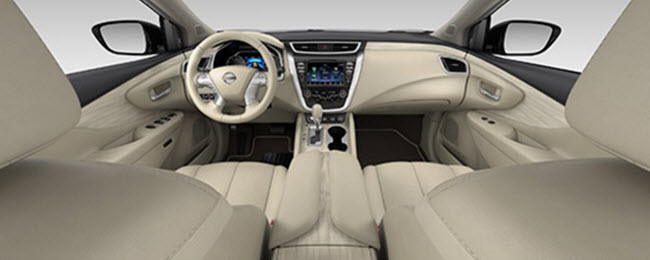 Mechanical
The Advanced Drive-Assist Display is the size of a mini-tablet, and it gives you access to all of the mechanical features you need to understand. There is a high-resolution screen that gives you the tire pressure readings for each tire. When you come down to get a Murano for sale from our dealership serving Huntley Illinois, you'll be able to experience some of our best Woodfield Nissan specials that we have to offer. The vehicle has an incredible suspension that helps you give you one of the smoothest driving experiences on the road today. Combine the exceptionally quiet and smooth design with an interior that's designed for hosting your passengers, and you'll start to understand how this vehicle is unlike any other. Nissan Murano is designed to help you get more accomplished, and you'll love how smooth this vehicle runs.
Powertrain
Your engine determines what the vehicle is ultimately capable of accomplishing. The Murano is set with a 3.5L V6 engine that gives you 260 horsepower to help you easily pass others on the road when the situation arises. A fast car that is powerful isn't intended to take you to top speeds although this can be a useful feature, this car is designed to pass quickly and efficiently. This vehicle is designed to help you get out in front of other vehicles in the most efficient and safest manner possible. The powertrain of the 2017 Nissan Murano for sale to Huntley IL residents is designed to get you where you're going in record time. The 2017 Nissan Murano is powerful and nimble, and you'll be able to get a great deal when you take advantage of our Woodfield Nissan specials. The Nissan Murano will impress and surprise you with its amazing functionality.
Safety
With too many safety features to count, this vehicle is designed to give you one of the most incredible experiences on the road while protecting you and your passengers. This vehicle is designed to help you avoid a collision with the Predictive Forward Collision Warning system. You'll also be able to brake more efficiently using Forward Emergency Braking that uses radar technology to make sure you brake before hitting the vehicle in front of you. The vehicle also comes with all the standard passive and active safety features. When you need a Murano for sale, you need to give our dealership a call. We will help you find the vehicle with the safety options you're looking for. Our dealership is proudly serving Huntley Illinois with our best possible offers, and we want to help you get into an exceptional new vehicle.
Come down and see our 2017 Nissan Murano for sale to Huntley IL residents, and you'll be able to take home a 2017 Nissan Murano today. We want to give you the best possible options on our Murano for sale. Our dealership serving Huntley Illinois customers has some amazing Woodfield Nissan specials for those who are in the market for a new Nissan Murano.