2017 Nissan Altima SR Midnight Edition near Arlington Heights IL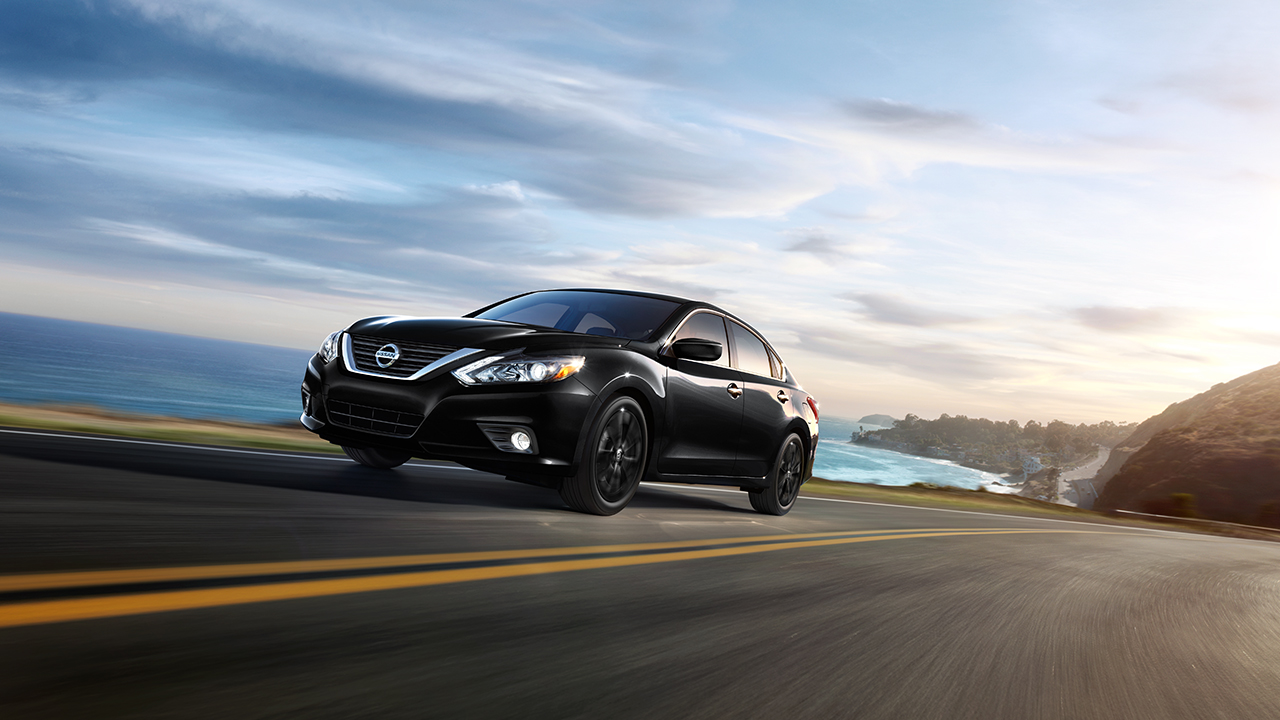 Overview
Starting at just above $25,000, the 2017 Nissan Altima SR Midnight Edition is a sporty sedan that has racing-inspired styling. This model runs on a four-cylinder gas engine and the Xtronic transmission system that offers no limits on gear speeds. Customers who are interested in exploring the 2017 Nissan Altima SR Midnight Edition near Arlington Heights IL should contact Woodfield Nissan. This reliable dealership provides detailed information on the car's interior, exterior, performance, safety and other specifications.
Interior
The 2017 Nissan Altima SR Midnight Edition near Arlington Heights IL has a 5.0-inch color monitor that shows audio and other settings. You can listen to the latest hits on AM/FM radio channels. Six standard speakers are strategically installed to produce great acoustics inside this sedan. An Altima dealership serving Hoffman Estates Elgin Arlington Heights IL will also talk about the wireless Bluetooth technology that enables hands-free phone calls. The driver may also take advantage of a text message function that's done through Bluetooth. When it comes to interior comfort and convenience, this Altima model has a lot to offer. For example, the Intelligent Key can be used to activate the Remote Engine Start and Stop System with Intelligent Climate Control. With the push of a button, the driver can easily turn on the ignition system.
Exterior
Customers who would like to customize the 2017 Nissan Altima SR Midnight Edition near Arlington Heights IL should visit Woodfield Nissan. This dealership can install 18.0-inch wheels that are covered in gloss black and aluminum. These stylish wheels look great with the Super Black paint that embodies modern sophistication. Some other color options that are available for this awesome sedan include Scarlet Ember, Cayenne Red, Gun Metallic and Pearl White. The dual exhaust tail pipes on this car are covered in shiny chrome. Smoked housings cover the headlights and tail lights that generate plenty of reliable illumination in dark conditions. Efficient LED bulbs are installed in the headlights and daytime running lights. Additionally, fog lights can be turned on to improve visibility in hazy or muggy settings. A rear black spoiler adds some sporty style and aerodynamic benefits to this agile sedan. You'll also appreciate the active grille shutters that partially control the intake of air into the powertrain. Some other notable exterior features on this exclusive Altima edition include UV-reducing glass and black side mirrors.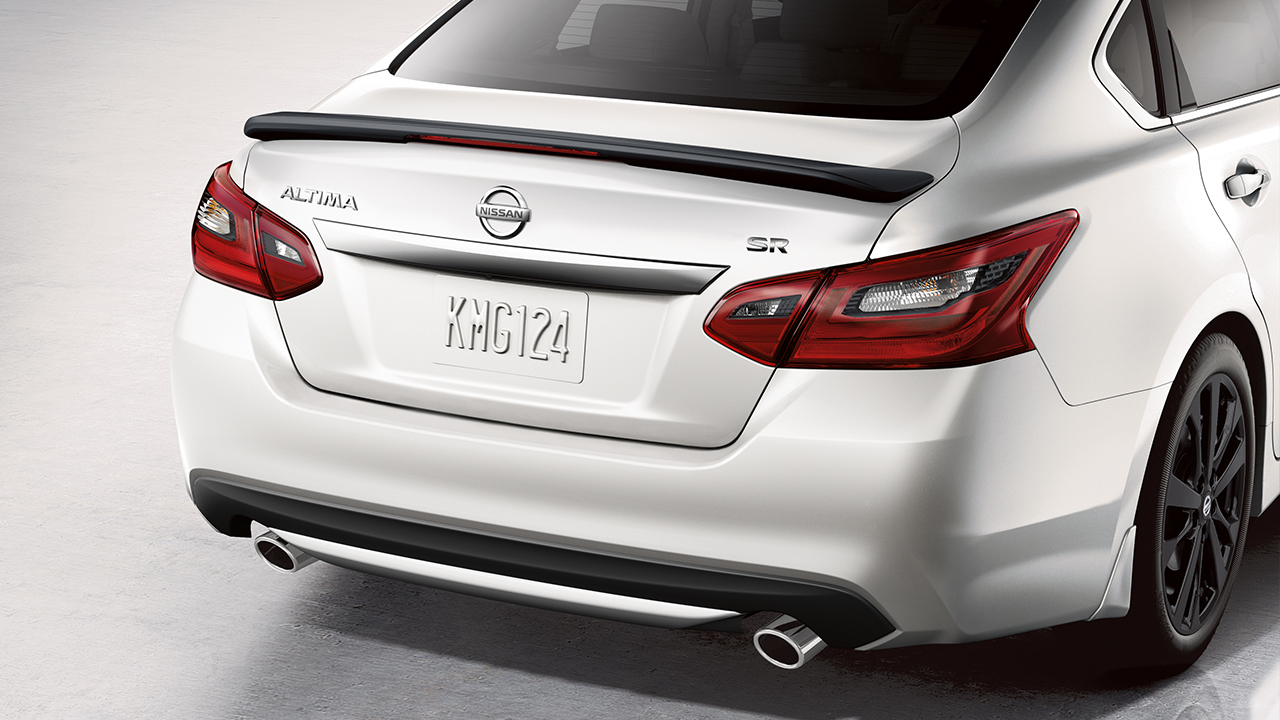 Mechanical
The 2017 Nissan Altima SR Midnight Edition is fitted with 11.7-inch front disc brakes that are ventilated. The rear wheels include 11.5-inch solid disc brakes that also deliver reliable stopping power in challenging conditions. A multi-link rear suspension system works in sync with an independent front suspension system to provide balance on any paved surface. The Nissan Altima SR Midnight Edition is also supported by the ZF Sachs shock absorbers that are engineered to withstand harsh conditions. Additional support is delivered by front and rear stabilizer bars. With a curb weight of just under 3,300 pounds, this cool sedan is very agile and dynamic for its class. A 62.0-inch track width also highlights the car's aggressive design.
Powertrain
Capable of generating just less than 180 horsepower, the 2.5 L QR25DE engine propels the 2017 Nissan Altima SR Midnight Edition. This four-cylinder engine has a peak output of just under 180 pound-feet of torque. The valvetrain is managed by the Continuously Variable Valve Timing Control System, which initiates the intake and exhaust cycles. A variable induction system also optimizes the flow of air and fuel in the powertrain. Additionally, this sedan has an electronic drive-by-wire throttle. Equipped with the Xtronic CVT (Continuously Variable Transmission) system, the Nissan Altima SR Midnight Edition is easy to handle in various conditions. By generating an infinite number of gear ratios, this patented transmission system eliminates the hassles that come with gear hunting. You can also activate the Manual Shift Mode in order to have the chance to customize the gear sequences. Paddle shifters on the steering wheel could be toggled to control this advanced setting. A sport-tuned steering system works smoothly with the Xtronic CVT. You also have some leverage from the Active Understeer Control, which compensates for a difference between the direction of the wheels and the steering angle.
Safety
This Altima model comes standard with the Vehicle Dynamic Control, which is a conventional technology that provides directional stability on slippery or curved roads. The Traction Control System may also come on to improve handling in hazardous conditions. An Altima dealer serving Hoffman Estates Elgin Arlington Heights IL will also talk about the tire pressure monitoring system (TPMS) that includes the Easy-Fill Tire Alert. This signature TPMS precisely measures the gauge pressure of each tire in real time. You simply need to look at the Advanced Drive-Assist Display in the instrument cluster. In the passive safety category, this Altima model has dual-stage front air bags that mitigate injuries. Side curtains also protect all of the occupants from trauma to their heads and upper bodies. During a severe front crash, the steering column is supposed to partially collapse in order to neutralize harmful forces. Additionally, the hood has multiple creases that buckle and deform in order to absorb shocks and vibrations from an impact.
Proudly serving Hoffman Estates Elgin Arlington Heights IL, Woodfield Nissan invites local customers to test drive the Nissan Altima SR Midnight Edition. This sporty sedan is perfect for extended thrilling rides on the highway or short daily commutes.